What is a Digital Twin of the ocean and what can it be used for?
A digital twin is a virtual representation that serves as the real-time digital counterpart of a physical object or process, said Prof. Georgios Sylaios of the Democritus University of Thrace at the kick-off conference of the EU-funded Iliad Project held online on February 1, 2022.
Prof. Sylaios, who is Iliad's Research and Technology Development Manager explained that in Iliad we will explore the potential use of digital twins in the marine environment and the maritime industries.
With a digital twin of the ocean (DTO), scientists and engineers will be able to carry out advanced, real-time modelling and analysis for diagnostics and forecasting, allowing for a whole host of improvements in marine research, resource management, system performance, and managing delicate engineering operations at sea.
"Digital twins connect the real and virtual worlds by collecting real-time data from installed sensors, running models and producing short- and medium-term forecasts, producing and analysing big data (both externally and internally produced), utilising internet of things (IoT) technologies to transfer data to cloud storages, representing a virtual copy of the performance and operation of physical assets, automating the process and optimising the procedures," Prof. Sylaios said.
Prof. Sylaios noted that digital twins are already revolutionising operations in the manufacturing sector, construction, utilities systems and medicine since the introduction of the concept in 2002 by Michael Grieves.
He cited the development of "smart houses" based on digital twins, that are designed to fit the needs of the people living in the house, use for managing intricate water supply system operations, and use in advanced medicine, in visualising a digital counterpart of the human body, for instance. "We have many examples of the application of digital twins in the automotive industry, the construction industry, utilities and health care."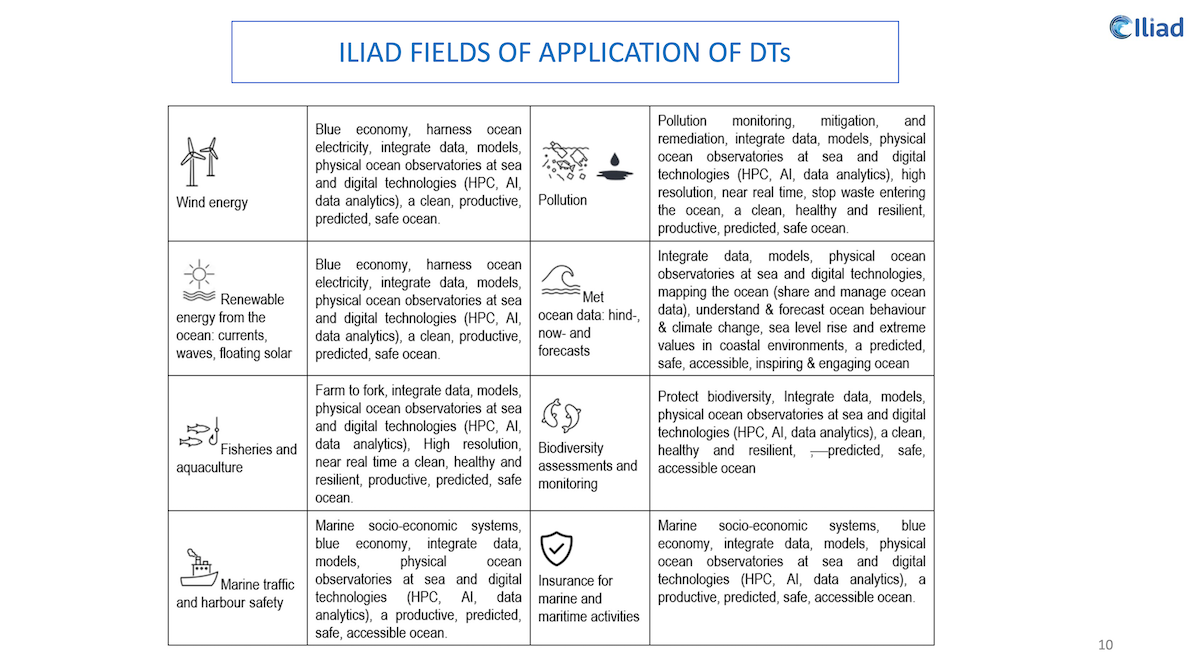 Among Iliad's pilot activities, Prof. Sylaios distinguished between two basic categories. In "two-way digital twins", the modelling and simulation of the given physical object or process is applied directly to guide the operation of the physical object or process being simulated. These include offshore wind farms, other renewable energy installations (from currents, waves or floating solar cells), fisheries and aquaculture farms, marine traffic and harbour safety. In "one-way digital twins", on the other hand, the object being simulated is not under direct operational management, so the information gleaned from the digital twin is not used to guide operations. Examples include pollution, metocean, biodiversity assessments and monitoring, and applications used for insuring marine and maritime activities.
Iliad is introducing the concept of "humans as sensors" into its digital twin, integrating human perception and data from social networks to improve the digital twin's performance. This is part of Iliad's guiding principle of increased integration of various forms of technology, data collection, transfer and storage, alongside simulation, into its DTO platform.
"For the first time we have a federated platform, meaning that we will try to link different platforms and try to make them interact and interrelate and exchange data from one platform level to the other. And this will really enhance interoperability, and the platform will act as a data integrator and simulator, and as a control room, which again is something novel," Prof. Sylaios said. "The novelty of Iliad is in its integration. I believe that no other project in the past has ever done all these, has ever integrated all these elements into one project. This integrative capacity […], integrating all these elements into something new, is the main contribution of Iliad to science and to metoceanography," he added.
The European Union (EU) has granted the Iliad Consortium €17 million to develop and launch a DTO that will provide highly accurate predictions of future developments at global seas. Iliad is comprised of 56 partners from 18 different countries in Europe, the Middle East and North Africa.