Iliad researchers: Cold spells boost climate change denial tweets; some warming seen as good
A team of researchers associated with the EU-funded Iliad project recently published findings based on an algorithm analysing more than 15 million English-language Twitter posts spanning 13 years (2006-2019), showing that cold spells – dips in temperature relative to historical averages – led to proportionally more tweets indicating disbelief in the existence of climate change.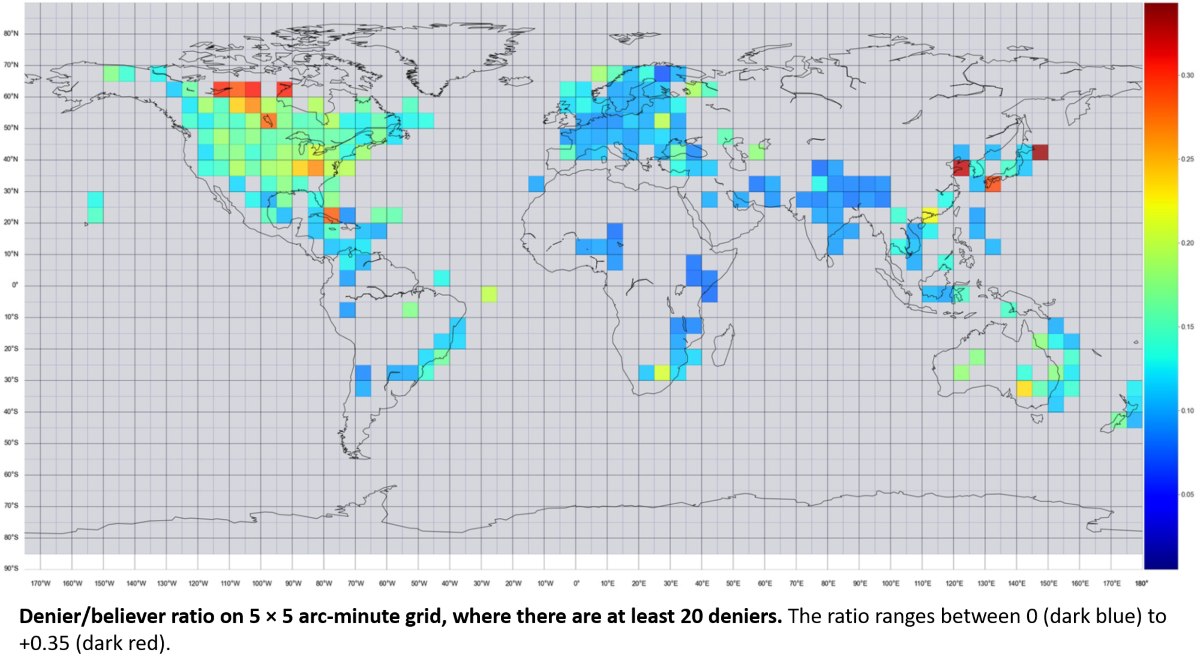 Warm spells, however, were associated with proportionally more indications of belief in climate change and fewer tweeted denials.
In fact, the deniers-to-believers ratio decreases when air temperature ranges between normal levels, reaching its lower value at temperature deviations up to +4.172 ̊C. This indicates that people are much more likely to connect warmer temperatures with man-made climate change than they are with colder-than-average temperatures, the researchers explained.
The ability of the algorithm was developed to globally gauge Twitter users' perceptions of climate change and related environmental issues relevant to Iliad's Citizen Science work package, and is therefore useful in the project's current phase as a means for gauging public perceptions of authorities' responses to environmental disasters, including oil spills and marine mucilage events, commented Iliad Research and Technology Development Manager, Georgios Sylaios of the Democritus University of Thrace (DUTH). Such Twitter posts could be used to alert scientists on extreme events and trigger the operation of prognostic models, thus minimising the time needed to respond, inform authorities, and mitigate impacts.
Sylaios published the findings, titled 'Exploring climate change on Twitter using seven aspects: Stance, sentiment, aggressiveness, temperature, gender, topics, and disasters', together with DUTH database and information retrieval researchers Dimitrios Effrosynidis and Avi Arampatzis in the academic journal PLOS One in late September 2022.
'Climate change is a politicised issue and it is mainly communicated with negative sentiment, aggressive language, and denialism', the researchers noted. 'People are expressing their concerns, especially when witnessing extreme weather and reprove actions responsible for climate change, like gas emissions, and resource overconsumption', they added.
The researchers characterised the global stance as 'optimistic' nonetheless, 'as actions are being taken through events to raise awareness of this phenomenon'. For instance, there are many discussions on Twitter emphasising the importance of human intervention in fighting climate change. Most deniers are more present in the US, South Africa, Cuba, Japan, and Eastern China and less present in Europe, India, and Central Africa. They also found that tweeters' attitudes towards the perceived climate change were 'more forgiving to warmer temperatures', as tweets tended to be more negative during cold spells and positive during moderate warm spells. Tweeters are most positive about climate change when it leads to a slight cooling of up to 1.14 ̊C below the average temperature or a slight warming of up to 2.4 ̊C above the average temperature, the researchers said.
The team also found that while little to no relation could be seen between specific environmental disasters and tweeters' attitudes and stances, events with higher numbers of human fatalities correlated with peaks in tweets denying climate change, 'suggesting that climate change deniers are triggered slightly more when human lives are lost'.
In addition to the US, Canada, UK, Australia, and New Zealand, large numbers of English-language tweets originate in European countries, India, Japan, the Philippines, Indonesia and Malaysia, among other countries, the researchers noted.