1st International Joint Conference MARBLUE 2022 'BLUE GROWTH: CHALLENGES AND OPPORTUNITIES FOR THE BLACK SEA'
Start: Wednesday 26th October 2022
End: Friday 28th October 2022
Location: Ovidius University of Constanta, Romania
The Organising Committee is inviting participants to the 1st International Joint Conference MARBLUE 2022 'BLUE GROWTH: CHALLENGES AND OPPORTUNITIES FOR THE BLACK SEA', which will be held at the Ovidius University of Constanta, Romania, between 26th - 28th October 2022.
The event is co-organised by the National Institute for Marine Research and Development "Grigore Antipa", National Institute for Research and Development of Marine Geology and Geoecology – GeoEcoMar, and "Ovidius" University of Constanta, under the auspices of the National Commission of Romania for UNESCO.
The International Conference aims to contribute to the protection of the Black Sea by supporting sustainable development in a multi-disciplinary manner. The conference will provide a space for discussions, including aspects related to both fundamental research as well as technological innovations, between scientists and companies involved in research and development.
The conference is structured into six main sessions, covering a large range of research fields:
Session I: Oceanography and Marine Geology
Session II: Biodiversity, Ecology and Conservation of Marine Ecosystems
Session III: Sustainable Use of Marine Resources
Session IV: Marine Spatial Planning (MSP) and coastal management
Session V: Observing the Black Sea
Session VI: Ocean literacy and education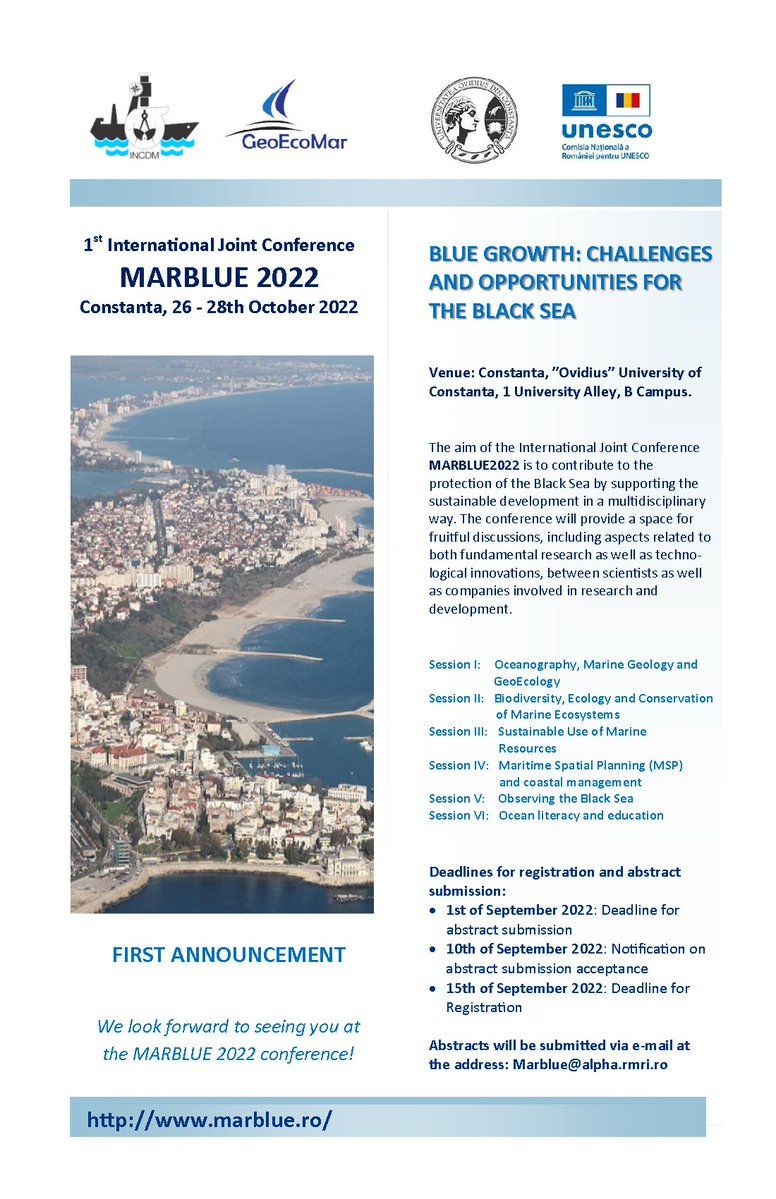 Upcoming Events